GLS delivers when the third largest shoe brand grows
Skechers runs the third largest shoe brand in the world.
GLS has been a part of their journey since the late 90's. Back when they were just 10-12 employees and up til today where they have 4 storages in Esbjerg, distributing more than 2 million pairs of shoes to wholesale, retail and online customers across the Nordics and Northern Germany.
Skechers is built upon 3 business areas:
60 Skechers concept stores in the Nordic countries and Northern Germany
4 webshops in Scandinavia
1600 retailers in the shoe- and sportswear industry.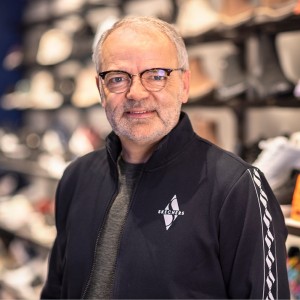 We chose GLS because they had - and still have - the best reputation in the business. It is extremely important to our customers, that they feel safe with the company delivering their parcels.
Peter Jørgensen, Adm. Dir - Skechers
Peter Jørgensen tells:
We have worked with GLS since the late 90's. Back then, we were only 10-12 employees and GLS had a great distribution network and a good setup, which could handle the delivery of our parcels.
We have experienced big growths since, but GLS has been a part of the entire journey, providing us with advice and feedback along the way. When we develop and new needs show, GLS are great at seeing our perspective on things, and providing us with tailored solutinos, instead of putting us in a one size fits all-solution. And the fact that GLS climate compensates for all deliveries is a big plus too.
The wheels have to keep moving - That's where I am at my best. I am better at developing, than I am at maintaining, which opens up for new demands. This requires a lot of effort from our partners, but GLS are great at thinking outside of the box, and solving our needs.
We have grown tremendously, and GLS has been there every step of the way with good advice and sparring
Peter Jørgensen, Adm. Dir - Skechers
Why Skechers sends their parcels with GLS
Reliability
Multiple daily pickups at Skechers with high reliability ensure that 2 million pairs of shoes are delivered per year.
Tailored solutions
Not all customers fit into the same box. We continuously adapt our solutions based on Skechers' development and needs.
A large network
When delivering 2 million pairs of shoes to the Nordics and Northern Germany, a good distribution network is crucial.
Climate compensated delivery
All parcels sent with GLS are carbon offset - at no extra cost to you and your customers.
Want to read more cases like this?
Dive into the story of twins Kasper and Mikkel Dissing, who started their business, Ditur, from their childhood bedroom.
click here