The right delivery solution
GLS provides companies a range of solutions for parcel and express products.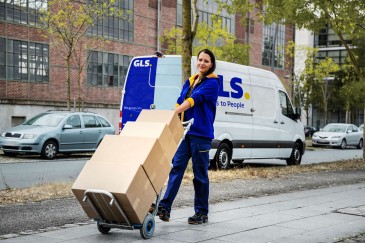 Stable express, parcels, and services network in 40 European countries and 8 US states:
GLS is your strong partner for parcels and logistics services with a reliable European network, extremely low damage rates and last but not least, an attractive price-performance ratio.
GLS provides parcel services for companies of all sizes and from different sectors - nationally and internationally, business-to-business and business-to-consumer.
The right delivery solutions for any sender.
Customers can choose from a range of national and international delivery services. GLS provides both standard delivery products and express products for urgent deliveries. These can be combined with value-added services - which means that GLS postal consignments can be tailored to a client's specific needs.
GLS's tested IT solutions can be tailored to the needs of all senders both on the systems side as well as the current needs.
Attractive transport costs
The cost of a shipment depends on your wishes and needs. If you ship regularly, GLS will send you an individual pricing quote for the products and services that meet your requirements. Shipping costs are determined based on several criteria. The structure of the dispatch is a decisive factor.
A wide range of products & services
GLS provides all senders parcel products and express products that can be combined with a wide range of additional delivery services. In this way, all shipments can be tailored to the specific needs of customers.
Three delivery attempts
If the first delivery attempt is unsuccessful, GLS attempts a second and third times, with no additional costs.
Free return of failed shipments
If no delivery attempt has been successful, GLS will return the shipped goods with no additional costs.