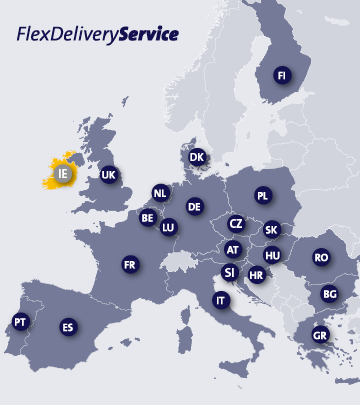 Flexible parcel shipment across Europe
E-commerce simplified
GLS offers flexible delivery between numerous European countries with the international FlexDeliveryService
Strong parcel network
Fast and smooth parcel delivery with GLS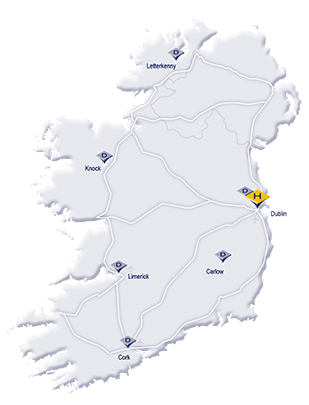 With six locations, GLS Ireland is always close to senders
and recipients throughout Ireland:
Carlow
Cork
Dublin (GLS Hub and GLS Depot – Parcel)
Knock
Letterkenny
Limerick
New depot in Cork
Ahead of the Christmas season: GLS Ireland increases capacity
ThinkGLS. ThinkResponsible.
The company's third sustainability report is now available.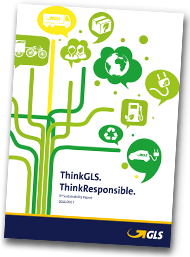 With the sustainability report of the GLS Group, we are informing our stakeholders about the company's aims, activities and progress in economic, social and environmental matters.
GLS – Europe's parcel carrier
GLS offers pan-European parcel logistics, express delivery and logistics solutions. Founded in 1999, with strong roots in the national markets, GLS is now one of the leading parcel carriers in Europe. GLS parcels reach their destination securely and reliably.
Via own subsidiaries and partner companies GLS provides reliable parcel delivery services in 41 European countries and eight U.S. states. In many countries it also offers express delivery and logistical value-added services.
"Quality leader in European parcel logistics" is the guiding principle of GLS. Quality for the parcel carrier means: high reliability and delivery performance, extremely low damage and loss ratios, and short delivery times for GLS parcels. The national delivery time in most countries is less than 24 hours. International delivery times are between 24 to 96 hours; European business centres are generally serviced within 48 hours.
GLS has a strong, road-based European parcel network with dense national networks. Precisely-coordinated long-distance transports link distribution centres, while modern technology enables rapid and reliable consignment sorting. The parcel carrier works with standardised processes. The key element is the harmonised IT system of GLS, which allows all GLS companies to easily exchange information.
Security is also enhanced by the use of state-of-the-art technology. Alarm systems and digital video surveillance systems are installed in all the major hubs and depots to monitor and record all the parcels. Each parcel is marked with an individual number that is recorded electronically at every important interface. The scanned data is used for the IT-based processing and monitoring of the over 580 million parcels delivered annually. Senders can see at any time where a GLS parcel is located.
GLS has a uniform, pan-European basic parcel product for national and international delivery that can be supplemented with country-specific services.