Environmental protection
At GLS, we care about our effect on the world around us. Every parcel and its related logistics and transport processes have an impact on natural resources and cause carbon emissions. We want to continue our mission in connecting people around the world whilst protecting the environment for future generations. Therefore, climate and environmental protection are central components of our sustainability activities.
We launched our group-wide environmental strategy Climate Protect, aiming to maximise our impact on environmental protection and ensure that knowledge and efforts are shared and executed across our entire international network.
Within Climate Protect we are continuously implementing measures to avoid and reduce our emissions. In addition, we voluntarily offset the carbon emissions caused by the transportation of parcels and freight shipments by GLS companies in the EU . Furthermore, we compensate the carbon emissions from buildings and business travel of such companies. For further information, please click here .
Climate Protect measures
GLS Group has been actively seeking and implementing ways to reduce our environmental impact, as have our local transport partners.
Electrifying our fleet
We are electrifying our fleet. Different electric vehicles are used within the Group, such as electric vans, bikes and trucks. In addition, we also test alternative fuels and hydrogen.
Implementing alternative parcel delivery solutions
We install parcel lockers and open parcel shops, deliver parcels with walkers and test alternative delivery options.
Usage of green electricity
We are increasingly purchasing green electricity and installing solar panels on our buildings. Thus, 80% of GLS-operated sites already use green electricity.
Future-proofing our buildings
We are converting fossil heating systems to electric heat pumps to reduce carbon emissions of our buildings and we are installing charging infrastructure at our sites.
Local investments supporting environmental protection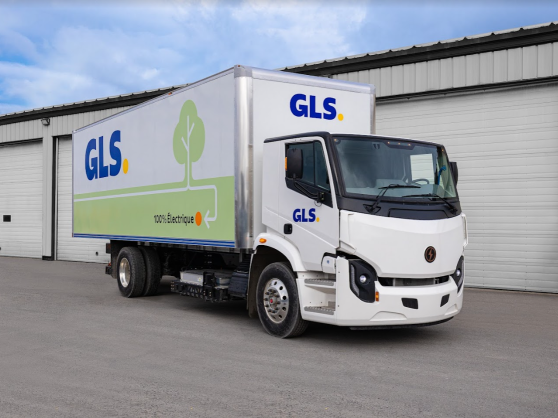 Four electric Lion 6 straight trucks in operation in Canada
GLS is one of the first companies in Canada to make Less-Than-Truckload deliveries with an electric truck.
The four new trucks replace diesel trucks and are in use in Quebec and Western Canada by Rosenau Transport.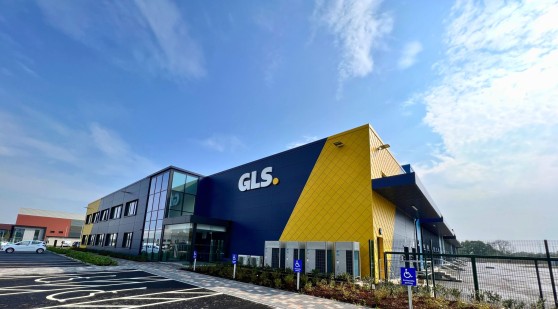 New depot in Dublin, Ireland
GLS Ireland recently moved to their new depot in Dublin. The building has a 6.5 kW photovoltaic system, a heat pump, rainwater harvesting, LED lighting and 14 electric charging stations.
The new depot is LEED Silver certified.
156 charging points installed in Poland
GLS Poland doubled the number of charging points over the past year. Charging points are now available at 22 different locations. GLS Poland carefully planned their network to ensure the greatest possible availability of charging points for their couriers.
100% certified energy from windmills in Denmark
GLS Denmark exclusively uses 100% certified sustainable energy at all locations.
The certification given by Ørsted guarantees that an equivalent amount of sustainable energy, compared to that consumed by GLS Denmark, is produced by European windmills.
Within the Group, 80% of the GLS-operated sites use renewable energy.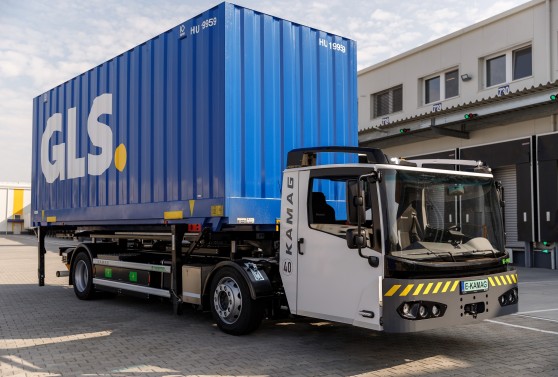 Electric Shunter introduced in Hungary
In 2022, GLS Hungary replaced a diesel-powered swap body transporter with an electric one. The new vehicle has two battery packs (80kW) and carries the swap bodies within the GLS depot in Alsónémedi, near Budapest.
To meet the increased demand for charging, Hungary has newly installed a 120 kW fast charger.
Compensation projects supported by GLS
We work with ClimatePartner to offset carbon emissions caused by the transportation of parcels and freight shipments by GLS companies in the EU . Furthermore, we compensate the carbon emissions from buildings and business travel of such companies. Together with ClimatePartner, we have offset more than 1.5 million tons of emissions on behalf of the GLS Group from October 2021 to September 2023. For futher information, please click here .
The supported climate protection projects protect the rainforest in Brazil and Peru and promote the expansion of renewable energies in India. These projects make an important contribution in several dimensions, as they preserve biodiversity, expand local infrastructures and create workplaces. In addition, each project contributes to the Sustainable Development Goals.
Read more about the projects we support below.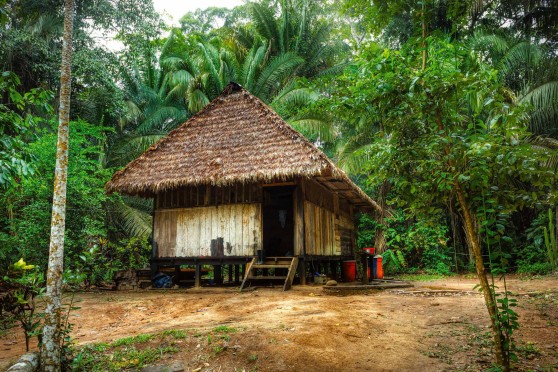 Forest Protection in Madre de Dios, Peru
Madre de Dios is an area of the Peruvian Amazon with some of the highest biodiversity in the world. It is also under threat from the Transamazônica road project and deforestation for agriculture. We support a project that protects an area of 100,000 hectares while working with the local population to help manage the land sustainably. The project is VCS CCBS Gold Level certified .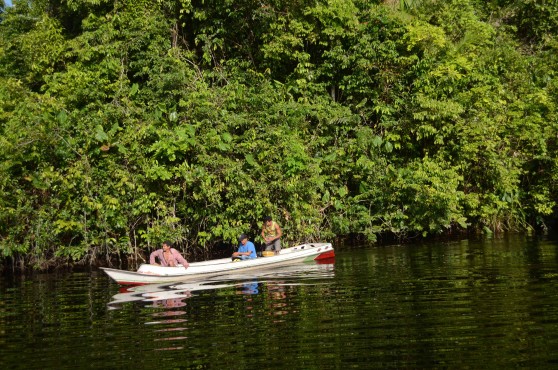 Forest Protection in Pacajá, Brazil
The project in the Brazilian Amazon covers an area of 148,000 hectares. To avoid the deforestation of native forests, the project promotes and supports the native population in using sustainable agroforestry techniques and provides them with land use rights for their contribution to nature conservation. In addition, villagers are trained as monitoring personnel working in patrol teams to ensure the project area is monitored. The project is VCS CCBS certified .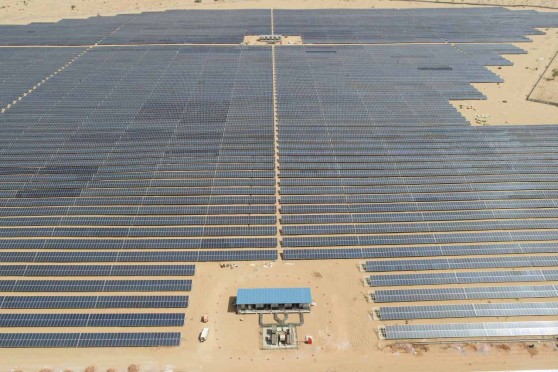 Solar energy in Bhadla, India
By generating 832,550 MWh of electricity each year from solar energy, the GS VER-certified project contributes to increasing the share of renewable energy in India's electricity mix and improves the national energy supply. It further supports infrastructure development in the region, as roads are expanded and improved. This project creates permanent jobs with an above-average income in the region.
Wind energy in Gadhsisa, India
This project generates energy with 143 wind turbines, which corresponds to a total capacity of 300 MW. It, contributes to climate protection, as fossil fuel power plants would have otherwise generated the amount of energy. In addition, the region's sustainable development is supported through the creation of jobs in conjunction with training and the promotion of education, such as the opportunity for students to attend local schools. The project is GS VER certified .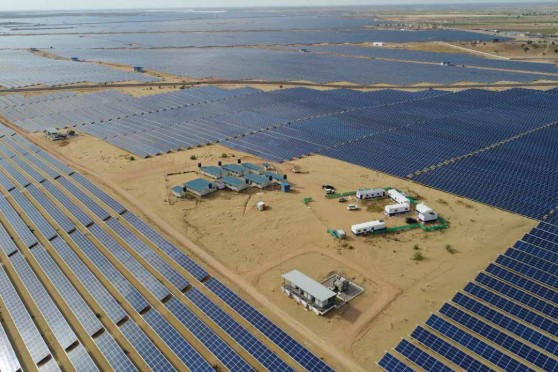 Solar energy in Jodhpur, India
Jodhpur, in the Indian state of Rajasthan, is a growing city of over 1.5 million people. Due to its desert location, it's well-placed to provide its industries electricity through solar power. To construct and operate a solar park, however, it needed additional support from companies like GLS. The project built a solar plant that covers 140 hectares of land and supplies 416,000 megawatt-hours of clean energy to the grid annually. That saves 408,420 tonnes of CO2 every year.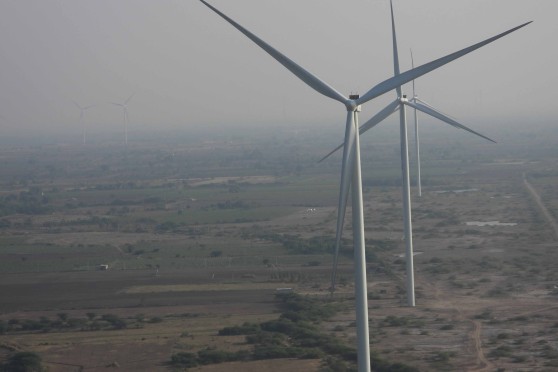 Wind energy in Bhatel, India
The Indian state of Gujarat is heavily agricultural, and its power grid is dominated by fossil fuels. We support a wind energy project that not only reduces the state's dependence on fossil fuels but also hits several Sustainable Development Goals (SDGs) for improving the lives of locals. Stable power and long-term employment in an area dominated by short-term contracts make a local improvement, whilst the project saves around 145,000 tonnes of CO2 every year.