For the people of today and tomorrow
People of different ethnic origin, culture or religion work at and for GLS. Appreciation, respect and understanding in dealing with employees and partners are among the important principles.
Thus, personnel development and intensive exchange with transport partners are among the most important building blocks in the company's sustained success. Furthermore, GLS is involved in various projects for people who are in need of help.
Help for the flood victims
Under the term ThinkSocial, GLS continuously launches measures and projects that support people in very different ways. The importance of this social commitment became particularly clear once again in connection with the recent severe weather disaster, which particularly affected Western Germany.

We also have been overwhelmed by the flood situation in Germany. In many places, people are struggling with the consequences of the floods and are literally left with nothing. Within a very short time, numerous creative measures were initiated at various GLS locations to support the affected people on site in the acute emergency: from donations in kind and money to transport assistance and special leave for affected employees.

In addition, GLS has set up a special donation account into which employees can pay a contribution to help, in order to accumulate further emergency aid together with the GLS contribution.
Support for social projects
GLS Germany supports numerous regional and local campaigns. These include free parcel transport or support for organisations and institutions.
On a local level, support is often given to kindergartens, schools, hospitals and hospices.
GLS supports the work of the local fire brigade
The GLS head office in Neuenstein has become an official "Partner of the Fire Brigade" this year. 13 colleagues are released from work at any time for fire brigade missions. In this way, they help the Neuenstein fire brigade to ensure operational readiness for the day.
The municipality of Neuenstein and its citizens say thank you for so much commitment to the volunteers!
Help for committed helpers
In order to honour the work of many committed people in the entire area of the GLS Region Center, the depots located there have made monetary donations to various charitable and non-profit institutions. Donation cheques totalling 3,000 Euros were issued to the following organisations to support their local work:
Bringing joy to a children's home
As a staff party at the GLS Depot in Nuremberg could not take place, the Depot Management decided to use the event budget to support a local institution that is particularly committed to our society. The choice fell on the "Kinder- und Jugendheim des KJHZ" in Nuremberg - the support association can look forward to a donation of 2,500 Euros.
Help for food banks welcome
The GLS Head Office in Neuenstein gladly took the opportunity to participate in a donation campaign initiated by its supplier Formware for food banks. In order to also do something good for the local "Tafel", the GLS Management decided to provide a food package with a total value of 500 Euros to the "Tafel" in Bad Hersfeld.
Donations for children instead of presents for customers
In the run-up to Christmas, the depots of the GLS Region North organised a wide-ranging fundraising campaign for a number of organisations that support the youngest members of our society. But also an association that cares for the homeless was pleased to receive a donation. Donation cheques totalling more than 20,000 Euros were handed over to these organisations:
Professional development
GLS supports the development of young employees with a sound and practically relevant training programme.
In Germany, for example, GLS trains CEP professionals, IT professionals, office communication professionals and IT system integration experts.
A dual study course in logistics management and business informatics is offered in conjunction with universities of applied science.
The professional development portfolio is rounded off with an in-house business management programme.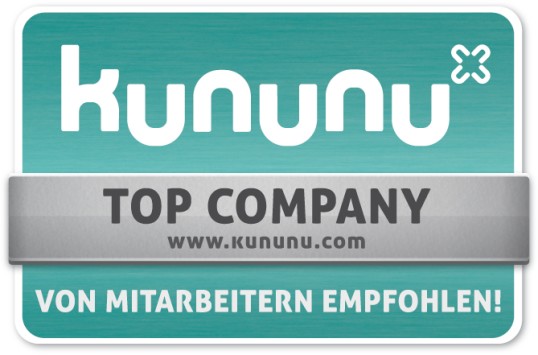 kununu TOP COMPANY seal for GLS
The leading employer rating platform kununu.com has awarded GLS Germany with its TOP COMPANY seal. This is awarded to employers who have a high level of employee satisfaction. The TOP COMPANY status can only be achieved through good employee ratings.
Only 6 percent of the approximately 1 million companies assessed qualified for this seal. Compared with its competitors, GLS scores best in terms of both points and recommendations.
Industry winner in Best Recruiters study
In the Best-Recruiters study of the "career Institut & Verlag", GLS Germany was awarded as winner in the sector transport, traffic and logistics. Among the companies tested, GLS again took first place and received the Best-Recruiters seal in gold. In the overall ranking of more than 400 of the largest employers in Germany, GLS achieved fourth place.
GLS Germany is certified "Valuable employer"
GLS's commitment to the common good as part of the GLS initiative "ThinkSocial" was also recently confirmed externally: The international parcel logistics provider was honoured by the weekly business magazine WirtschaftsWoche for its "very high contribution to the common good".
The award is based on a test called "Valuable Employer", which was conducted by the WiWo cooperation partner "ServiceValue" and was published on 1 December 2020.

GLS is one of Germany's best trainers
GLS was chosen by Capital magazine and the talent platform Ausbildung.de as one of "Germany's best trainers 2020". GLS achieved 4 stars in the category training and dual studies.
Successful "BioBrotbox" campaign in Frankfurt
For the 15th time, GLS supported the campaign for a healthy first-grader breakfast. Due to Corona there were changes compared to previous years.
GLS finds creative solutions
Parcel logistics is essential for the basic supply of the population. GLS does its utmost to do so and also goes unusual ways to protect the health of all those involved.
Corporate volunteering
Through its corporate volunteering programme, GLS Germany gives its employees the opportunity to support social projects. These might include clean-up initiatives or assistance with extension or renovation projects at playgrounds, nursery schools and sports facilities.
Initiatives are also run in conjunction with charitable organisations.
All projects are suggested by employees. If necessary and feasible, GLS gives the employees the day off and provides them with logistical support.
Due to the corona pandemic, volunteer activities have currently been supended. Nevertheless, we would like to present some exemplary activities from the past.
Heroes at a children's home
"Everyday heroes" was the motto behind a GLS volunteering day in Frankfurt. Nine employees helped out at the Protestant youth care centre Kinderheimat Reinhardshof. They moved the centre's library onto another floor and provided the outdoor playground with new bark mulch.
Hutch building for a primary school
Plenty of room for furry classmates: for their volunteer day this year, GLS staff in Neuenstein have built a year-round enclosure for rabbits at Schenklengsfeld primary school. By looking after the dwarf rabbits, the school children learn to take responsibility for the animals in their care. Two bunnies will be moving into the hutch to start with, but there's room for plenty more...
ThinkResponsible
GLS is fully aware of its special responsibility to the environment and to society.
ThinkGreen
GLS is committed to the environment. This includes using resources responsibly and reducing emissions.
Our sponsorships
We promote sports and culture. Fair play, team spirit and equal opportunities have a high priority.