Certified quality and sustainability
With our Europe-wide quality and environmental management system, we constantly ensure, control and improve the quality and sustainability of our service.
Our company is certified in accordance with DIN ISO 9001:2015 and 14001:2015 by DEKRA, one of the largest international issuers of management certification. As such, we meet internationally recognised high standards.
EcoVadis Gold Status
After having achieved EcoVadis Silver status in 2020, we have now been awarded with the Gold medal!
This means we have further improved our result and our efforts to protect the environment now places us among the top 7% of companies in the postal, courier and freight transport industry assessed by EcoVadis within the Environmental category. Overall, we are in the top 8% of companies in the postal, courier and freight transport industry assessed by EcoVadis..
EcoVadis, a recognised sustainability rating platform, evaluates companies' sustainability commitments by using standardised questionnaires and research.
Please also read our press release (in German).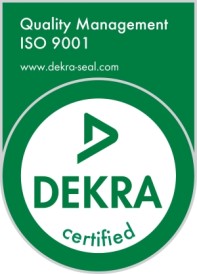 Seal of approval for quality management
Our comprehensive quality assurance includes precisely defined work processes, quality guidelines with inspection routines and regular audits. Quality indicators are managed on an ongoing basis.
We guarantee, check and improve our quality with a Europe-wide quality management system and thus fulfil high, internationally recognised standards according to DIN ISO 9001:2015.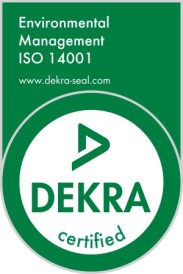 Seal of approval for
environmental management
We are operating in an environmentally friendly manner, putting sustainability projects into practice at all national subsidiaries. We have gained ISO 14001:2015 certification for our environmental management system in all European countries. This globally valid and recognised standard is one of the most important environmental management benchmarks for manufacturing companies and service providers alike.
GDP – certified transport of medication
We have been awarded GDP (Good Distribution Practice) compliance certification in Belgium, Denmark, France, Germany, Ireland and Spain. GDP guidelines are mandatory for the wholesale of pharmaceuticals across the EU. Therefore we meet the stringent requirements for the safe, hygienic and product-appropriate transport of human medication in six countries. It is intended that other GLS companies obtain the certification.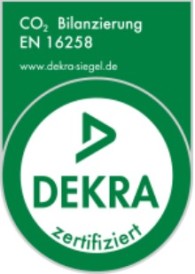 DIN 16258 certification for
CO2 per parcel calculation
Within GLS KlimaProtect we calculate the emissions per parcel based on DIN 16258-2013-03 (standard for the calculation of greenhouse gas emissions in transport and logistics). The conformity with the standard was confirmed by DEKRA.
CDP – Carbon Disclosure Project
The Carbon Disclosure Project is a non-profit organisation that collects and publishes companies' environmental data on the basis of standardised questionnaires. We take part in the annual survey together with our parent company, Royal Mail.
You might also be interested in this